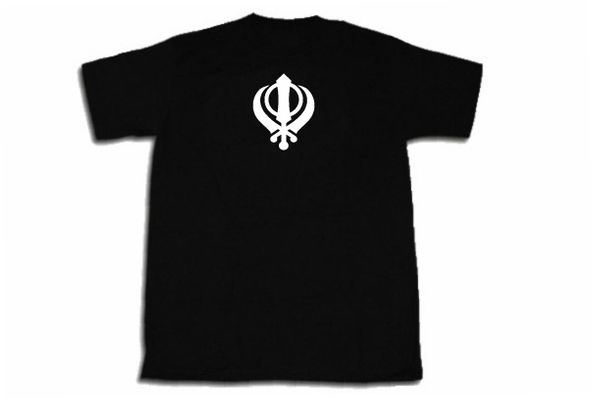 The Khanda is one of most important symbols of Sikhism alongside the Ik Onkar. It originated around the eighteenth century in India and is emphasized by the fact that many Sikh flags, including the Nishan Sahib have the Khanda on them. It is a collection of four weapons commonly used by Sikhs at the time of Guru Gobind Singh Ji .

The weapons are:


* A double-edged sword called a Khanda sits in the middle.
* A Chakkar is a circular weapon that surrounds the Khanda
* Two single-edged swords, or kirpans, are crossed at the bottom and sit on either side of the Khanda and Chakkar. They represent the dual nature/duties of the Gurus, Miri and Piri.

This "Khanda T-shirt" design is printed on a 6.1 oz. Heavy Weight 100% Cotton tshirt. This tee shirt is extremely soft and preshrunk. This t-shirt is so soft you'll never want to take it off.

All t-shirts are printed with white designs except for Natural, Ash, and White, which are printed with black designs.